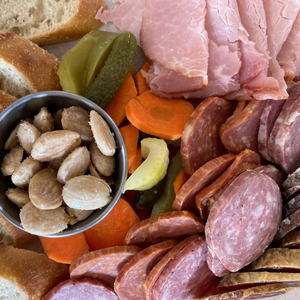 Our Combo Board is our most popular charcuterie board at our Eureka and Ferndale locations. Each is built to feed one as a meal, but don't be surprised if you have leftovers.
The Combo Board features three of our own cured and smoked meats and is paired with the following ingredients including:
Canadian Bacon (house) + Summer Sausage (house) + Aged-Cheddar (house) +  Rumiano Dry Jack + Pickles (house) + Marcona Almonds + Mustard + Fig Jam + Dried Fruit + Sliced Baguette
Note: This charcuterie combo is served in a recyclable "to go" box. Images don't necessarily reflect this season's ingredients which rotate seasonally.
Allergy Note: This meal includes nuts, dairy, gluten, and created in a facility that sometimes incorporates soy products.