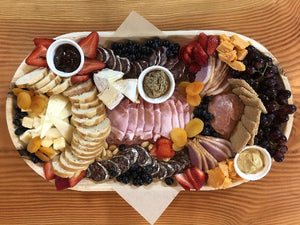 Party Platter: Chairman of the Board
The Chairman of the Board is all time favorite appetizer board for large groups, or complete meal for approximately three people. They'll come on a palm ware platter or large reusable party platter (depending on inventory) looking good and ready to party!
Pepperoni

: 

A slightly upscaled pepperoni with bursts of paprika, cayenne pepper, and a touch of fennel (3 oz, Eureka)

Summer Sausage:

Also referred to as "Gothaer" at the restaurant, this German summer sausage recipe has a natural wood smoking and generous dose of black pepper.

 (6 oz, Eureka)
Savory Salami:

a

 traditional dry salami with locally sourced pork from Northern California seasoned with a proprietary blend of rich, savory spices 

 

(3 oz, Eureka)
Spicy Salami Salami: also a dry salami, "Spicy" combines a blend of proprietary spices offering a mild heat, similar to a Spanish chorizo (3 oz, Eureka)
Canadian-Style Bacon: not shown in the image, our Canadian Bacon is another slow-smoked miracle with an amazing texture (6 oz, Eureka)
Smoked Duck: a cured and smoked masterpiece, you'll definitely want to try our smoked duck with the fig jam (3 oz, Eureka)
Brie: a creamy, imported brie (3 oz, France)
Dry Jack: a delicious cheese by Rumiano, made from local milk (1.5 oz, California)
Aged Cheddar: aged, white cheddar (3 oz New England)
Mixed Nuts: mixed, lightly salted nuts (USA)
Fruit: a collection of fresh and dried fruit that changes with the seasons (Seasonal, Source Varies)
Crackers, Cookies: Chef's choice
Honey: gotta' have it!
Fig Jam: imported from Croatia, our fig jam is the perfect pairing with our smoked duck (Croatia)
Mustard: two perfect coarse and smooth dijon mustards, imported (France)
This board is "event ready" presented on a beautiful tray made of recyclable palm leaf, or reusable round party platter depending on inventory. Simply remove the cover and you're ready to party. Not all boards are alike and some ingredients are seasonal, so expect variation in the final platter.
Allergy Note: This meal includes nuts, dairy, gluten, and created in a facility that sometimes incorporates soy products.